Sew Penguins, Puppies, Porcupines... oh my!

Sew sweet baby-shower gifts featuring baby animals!


Price

$27.95

Quantity:






Calendar Candle Mats Pack

Make 12 wool applique candle mats for year-round enjoyment. Combine fusible applique and wool embroidery for quick, heartfelt gifts.


Price

$19.95

Quantity:






Cool Cotton & Whimsical Wool Quilts

Whimsical Wool Quilts 12 contemprtaty folk art projects.


Price

$24.95

Quantity:






Kim Schaefer's Wool Calendar Quilts

12 months of fast, fun, fusible applique!


Price

$19.95

Quantity:






Whimsical Wool Applique

50 blocks, 7 projects in Kim's signature style


Price

$24.95

Quantity:






Festive Fall Quilts

From best-selling author Kim Schaefer comes this collection of 21 engaging piecing and appliqued projects for fall, including tried-and-true motifs such as pumpkins, sunflowers, acorns, turkeys, and autumn leaves.


PLAYtime NAPtime ANYtime Quilts

Imaginative quilts for kids, make your child's new favorite! For boys, girls, and toddlers! Sew 14 applique quilts and projects in cheerful, kid-friendly themes.


Price

$24.95

Quantity:






A Merry Christmas

A Merry Christmas with Kim Schaefer 27 festive projects perfect for decorating your home and gift giving. Includes wall quilts, tree skirts, banners, wreaths, runners and more!


Black & White, Bright & Bold

Bold black-and-white designs with bright accent colors bring a graphic modern style to the home. Includes projects for placemats, table runners, wallhangings, and lap quilts.


Price

$21.95

Quantity:






Kim Schaefer's Skinny Quilts

Kim Schaefer's newest book titled "Kim Schaefer's Skinny Quilts" will ship January 16th Find us on Facebook for a special sneak peek of the quilts inside!


Price

$24.95

Quantity:






Bright and Bold Cozy Modern Quilts

Kim Schaefer is back with even more ways to infuse your home with fresh color and modern flair. Her new designs are innovative and irresistible in this follow-up to Cozy Modern Quilts. Whether you're a new sewer or a dedicated quilter, you'll love how eas



Out of Stock
Quilts from Textured Solids

Give your quilts a rich touch with 20 new projects that feature rich, textured solids to create timeless designs.


Price

$24.95

Quantity:

This item is not available for purchase online. Please call to order.



Quilts, Bibs, Blankies... Oh My!

These lovable collections of nursery accessories have everything you need to give charm to a child's room.



Out of Stock
A Cozy Quilted Christmas

A Cozy Quilted Christmas offers you seventeen projects and ninety full-size patterns to mix and match.



Out of Stock
Calendar Quilts

12 Months of fun, fusible projects.


Price

$17.95

Quantity: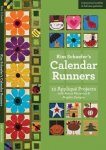 Calendar Runners

Complement your table decor with the coordinating Kim Schaefer's Calendar Quilts wall hangings


Price

$17.95

Quantity:






Cozy Modern Quilts

23 Easy pieced projects to bust your stash



Out of Stock
Flower Festival

50 Applique blocks to grow your garden



Out of Stock
Flowering Quilts: Folk Art Scrap Quilts

Flowering Quilts offers you sixteen charming folk art projects to decorate your home.



Out of Stock